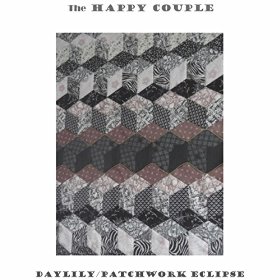 Release 5th June 2015
The Happy Couple celebrate their 20 year relationship with the release of Daylily, named after the flower traditionally given to mark a 20th anniversary. Despite their two decades together, they only began making music together a few years ago. In that time they've performed at Cecil Sharp House and the Bath Folk Festival and been given airtime on Radio 3's Late Junction and by Cerys on BBC Radio 6 Music.
The two tracks on this release, Daylily and the atmospheric Patchwork Eclipse, which they describe as 'A kind of Cosmic Landscape', were recorded in St.Peter's Church in Westleton, a village they often visit in Suffolk. The pair noticed how beautiful the natural acoustics of the Church were at its annual flower festival. "The sound has so much more character than the sterile environment of a recording studio," says Dave. "The Church was open the day of the recording and you can just about hear folks listening and quietly milling about in the background."
The instrumentation for both tracks is a Weissenborn acoustic slide guitar and a Morchang, an iron Jew's Harp from Rajasthan, India. The combination of languid sliding strings and the airy breathy tones of the Morchang produces a particular magic, at once surprising and un-precedented, yet somehow peaceful and familiar.